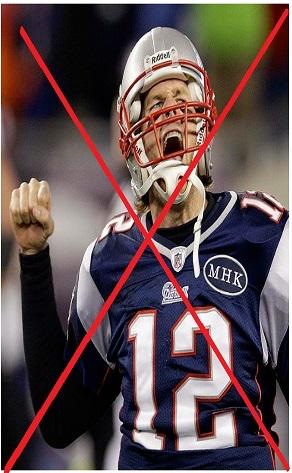 Danville, Kentucky
- We all hope to shape our legacies by our best moments - the no hitter in high school, our amicable divorce, and the time we haggled the car price down just a little lower. However, the toll of time leaves us with a dark legacy as well - the loss in our final football playoff game, our later less amicable divorces, and the time we realize that car is useless when the G.M. plant we'd drive to is closed.
Now, with everyone acknowledging what we were the
first to report 8 hours ago
-- that Tom Brady will sit the four games next year, we're left to assess: what defines Tom Brady's legacy? His best moment, or his worst?
Tom Brady's best moments are legendary. He's a Michigan Man with a soldier's spiral. Brady handles his first baby momma with class and his second marriage with the dignity I've never showed when I get
hustled in a game of pool
. Brady has four super bowl wins, and by stepping on a field, he has more wins than Nate Silver. Brady was the man I wanted my nephew to be. In truth, he was the man I wanted to be.
Yet, today Brady's legacy takes the biggest hit in sports history. Tom Brady cheated. He took an instrument of the game and played us all. When I watch the game with my nephew, I expect the game is played within the rules. However, Tom Brady cares about one rule: cheating. Well, Tom Brady, the man who made kids from Michigan believe the snows of December were a necessary path on the journey to stardom, you are no star. You are a cheater. You belong in no Hall of Fame. Fortunately for Tom, they don't let me vote for anything after a misunderstanding at the Danville Pawn Shop. Unfortunately for our younger followers, Tom Brady is still allowed to play.
Roger Goodell has a chance to fix the sins of his past. In this case, the sins of this day. Goodell has never been a man with a spine or often, a brain. Well Roger, I'm calling on you to ban Tom Brady. No poor child should ever have his Madden create-a-player relegated to receiving hand offs from a cheat. Sure, you may counter, the kid could request a trade. No. I will not accept a generation that learns the best option is to force their way out of a town. I will not accept Tom Brady playing in a town that is the basis for the movie 'The Town." No, I will not stop until Touchdown Tom is Terminated Tom.
Barry Bonds was the greatest baseball player of all-time. He hit the most dingers. He stole more bases than analytics have stolen fun from sport. However, people refuse to vote Bonds into the Hall of Fame because he took awesome drugs to make himself better. Now, we're going to accept a player that changed the tool of the game. Bonds changed no ball. He merely demolished them. Brady did more than change a ball: he deflated us all.