Kansas City, Missouri- For the first time since George Brett and Frank White exchanged championship rings alongside Dick Howser, I entered Kauffman Stadium.
My last 30 years have largely mirrored the Royals. As unqualified men manned the fields of Major League ballparks under the guise of a Royals uniform, I was an unqualified man roaming a series of jobs. The Royals had Betancourt at short, while the Walmart had me in the auto repair shop. Moreover, Kansas City kept Dan Reichert in the rotation for more days than the State of Kentucky took to realize I was unqualified to practice Dentistry.
Yet, sometimes an old man realizes that it's time to return. I was enthralled watching my Reds play the Royals and knew that the beauty along I-70 could best be appreciated in person. Therefore, on Friday night I made the decision to head into my '69 Ford and begin a journey I once made so often so long ago.
The simplicity of the road is frequently the best way to find yourself. On the way to America's easternmost Western city, I thought a lot about what this new team had. It has Yordano Ventura- a pitcher that can throw 100 and isn't afraid to fight. It has a pitcher in Luke Hochaver who refused to listen to the stat nerds that said his fly-ball rate implied he'd never be a successful pitcher, and a centerfielder in Lorenzo Cain who teaches people it's never too late to find your place in life.
Kansas City is an unusual place that represents America's difficult past. It's a city many people believe is in another state. It's a city where many of its best team's weren't allowed to play against what the country believed were the best teams of an era because of the color of its participants skin. And, it's a city that faced horrific floods in the 90's and political corruption mixed with organized crime.
Yet, Kansas City highlights what is wonderful about America. It's a city with BBQ that would be my last meal if headed to the Chair. It's a city that protects the memory of a forgotten

league

and a forgotten

war, and it's a city that sold out more Garth Brook's shows than anywhere north of the Mason-Dixon Line.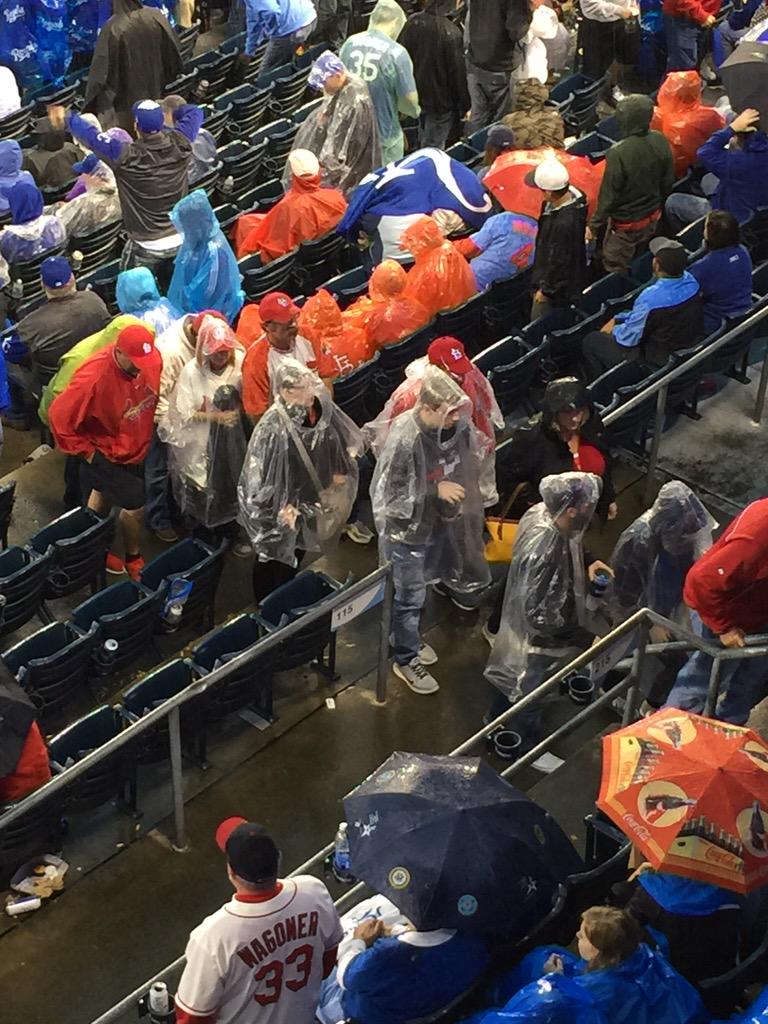 St. Louis doesn't deserve a paragraph, and its
despicable
fans weren't worthy of the joys of protection from the rain. That town can't support a football team, yet try and claim they have the best fans in a different sport. Folks, St. Louis is good for one thing- collecting tax revenue so Kansas City's
business
climate is still amenable to Kansas City's wonderful shops.
I arrived at Kauffman finding it different than 1985. The outfield experience in 1985 was nothing, while in 2015 I could and did buy a hot dog, ice cream, nachos, and 7 limearitas. About 3 limaritas in, I walked into a new fanshop and bought a wonderful Herrera shirsey for my Nephew.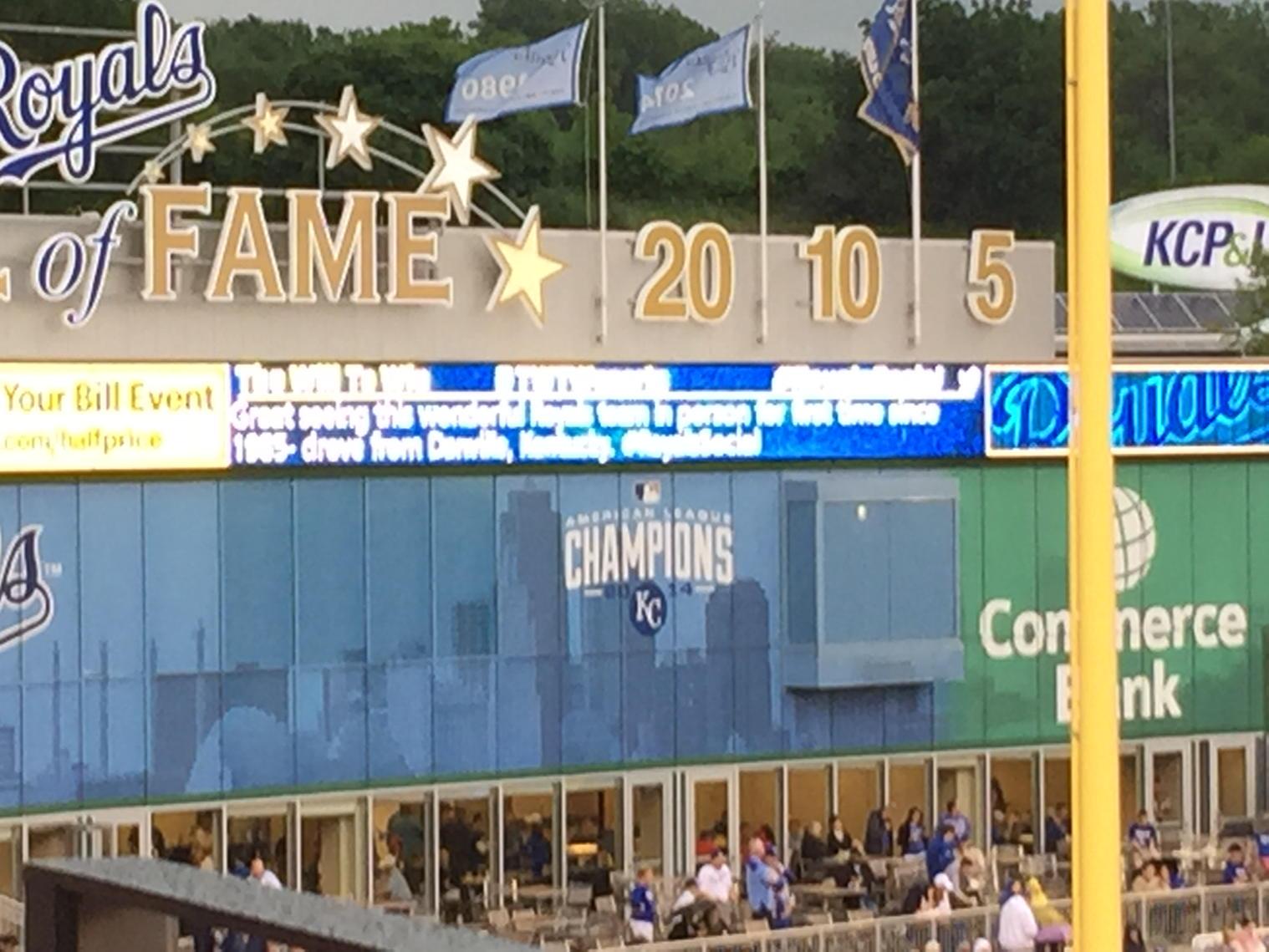 The Royals allowed our tweet to reach the board. I was truly blessed to see the Kauffman kids cared enough to put a no-hitter throwing man from Danville on a board.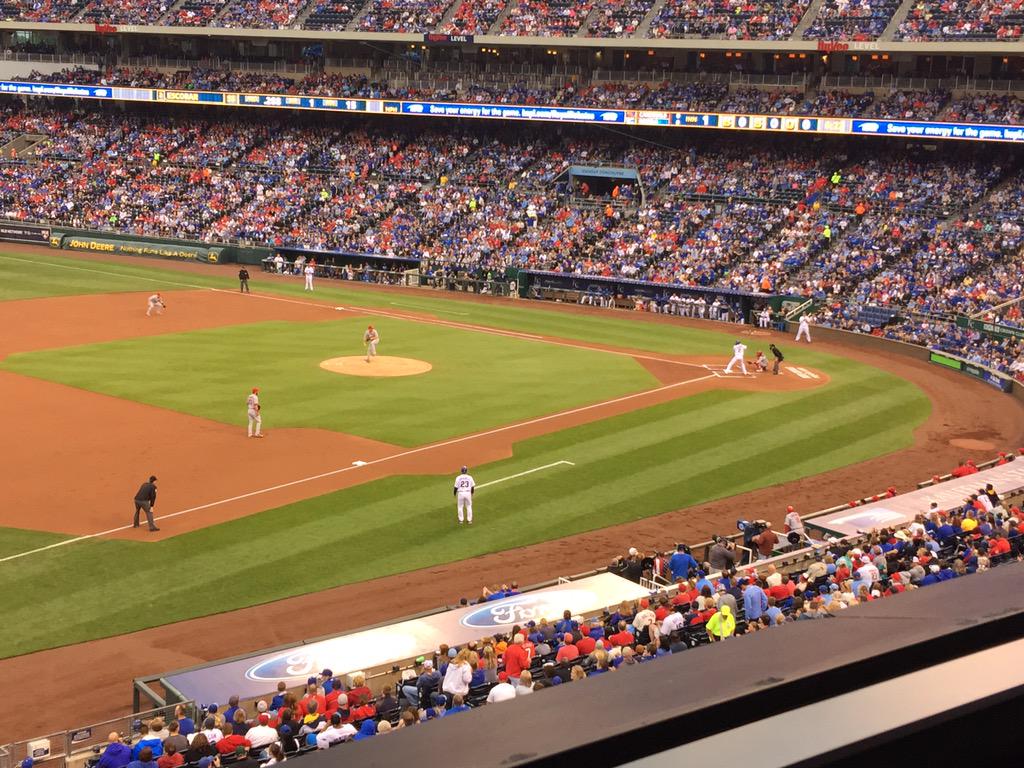 The Craft & Draft seats were phenomenal. I presented my ticket to a man at the door, and he handed me some wrist-band. I'm not used to the clubs because in Danville the Applebee's doesn't require a wristband to drink. Beyond this odd formality, I found a place that men and women from different generations enjoyed different crafts and food. The buffalo chicken sandwich I ordered was rivaled only by the Lexington Chili's food, and the padded-back on the bench seat gave me a range of movement with comfort.
Still, the Kauffman of 2015 had all the best things about the then Royals Stadium of 1985. The people were friendly and the team was mean. Most importantly, I came away convinced I'd also seen something similar to 1985: a World Champion.